You are seeing your reseller-prices.
We supply high quality silicon and germanium crystals, produced by the Czochralski process.
The properties such as electrical resistance, IR transmission, crystal orientation and residual stress of the crystals can be adjusted according to customer requirements.
Our delivery program includes
Blanks
Customised sizes
Ø up to 457.2 mm
Thickness up to 381 mm
CNC machined parts
Complex geometries
Sizes up to 444.5 mm
Tolerances smaller than 0.015 mm
Surface roughness up to 16 µm
Curved surfaces
Sizes up to Ø 368.3 mm
Sag tolerance: ±1 µm
Aspheres: Near net curve fit available
Polished substrates
Flat larger Ø 355.6 mm, spherical larger Ø 203.2 mm possible
S/D: better than 20/10
Surface roughness: flat less than 15 Å, spherical on request
Flatness: flat better than λ/10, spherical better than λ/4
Application
Infrared windows and lenses
Laser mirrors
Wafers for semiconductors
Coating materials
Transmission curve Silicon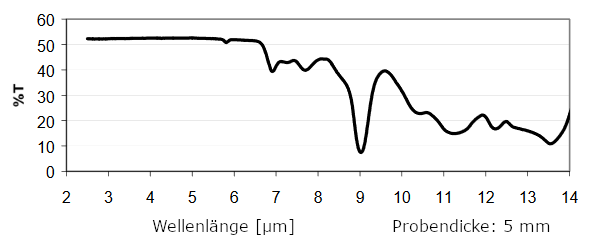 Transmission curve Germanium
You are interested in Silicon and Germanium?